At-risk mental state (ARMS)
At-risk mental state (ARMS) is not a disorder; however, it could affect our daily live functioning or develop into different mental disorders if we simply ignore it. 36% of people of ARMS would develop psychosis in 3 years; 40% of them comorbid with severe depression; and 8% of them comorbid with anxiety disorder.
What is At-risk Mental State?
Normally, our brain is able to regulate our sensitivity towards our surrounding environment, allowing us to selectively attend to relatively important information; however, when a person is under excessive stress, our regulatory system may become dysfunctional and overly sensitive, causing one to experience abnormal perception or persecutory ideas.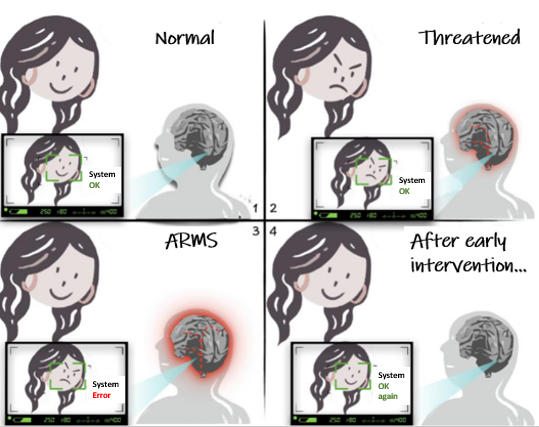 Attenuated Psychotic Symptoms group (APS)
Experienced abnormal perception or thoughts (e.g. hearing non-existing sounds, being suspicious, or having persecutory or bizarre ideas) in the past 1 year, but not sufficiently severe and frequent to be clinically diagnosable.
Brief Limited Intermittent Psychotic Symptoms group (BLIPS)
Experienced severe but brief (no more than 1 week) abnormal perception or thoughts (Same as above). Such experience eventually disappeared without any treatments and interventions.
Trait and State Risk-factor group
Having at least one first rank relative being diagnosed of psychosis or schizophrenia-spectrum disorders over their lifetime, and showing severe decline in social and occupational functioning (including academic performance, career, interpersonal relationship, and personal hygiene) over the past year. On top of these, sleeping quality and appetite may also be affected.
If anyone around you show, or suspected to have shown, any sign of at-risk mental state, and you would like to help, you could complete the following screening for preliminary understanding.
Help seeking methods
Tsuen Wan District
Caritas Wellness Link
Tel:3105 5337
Fax:3105 0167

Kwai Chung District
New Life Psychiatric Rehabilitation Association – The Wellness Centre
Tel:3552 5420
Fax:2784 5367

Sham Shui Po District
Hong Kong Federation of Women's Centres – Jockey Club Lai Kok Centre
Tel:2386 6256
Fax:2728 0617

New Life Psychiatric Rehabilitation Association – The Wellness Centre
Tel:2319 2103
Fax:2784 5367